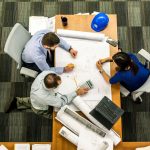 Skill Force Scholarship

SKILL FORCE SCHOLARSHIP is open to all full-time and continuing AUBG students (in their sophomore, junior or senior year) with high academic achievements (CGPA above 3.0). Applicants must have completed and/or be enrolled in at least two HR-related courses at the time of application (e.g. Human Resources Management, HRM Issues I: Staffing and Compensation, Strategic Management, Organizational Theory and Behavior, HRM Issues II: Performance Management, etc.).
In Bulgaria, there is a need for widespread support of higher education. There are so many different ways to give back to the university and I believe one of the easiest is by financial donation. The additional funds would empower AUBG to attract talented young people and support students in need so they would have the opportunity to gain world-class education locally and fulfill their potential in their homeland.
~Petya Yovcheva (EMBA '11)
Managing Partner at Skill Force
I was delighted to learn that my efforts had been rewarded with the Skill Force Scholarship. Naturally, this award will be of great help financially, but even more so, it has inspired and motivated me to continue being relentlessly dedicated to my studies. I hope one day I will be able to give back to the AUBG community and inspire future generations, too!
~Anika Shinikova
Skill Force Scholarship Recipient